products
DONGHAI, recognized by the world
DH-412Carbide Tipped
Hole SawT.C.T. HOLESAW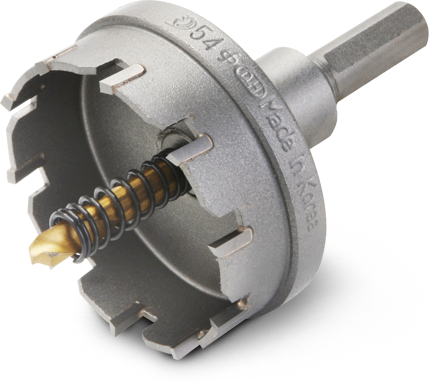 Material
Using tools

Rotary electric drills (hand drills)
Drill presses
Magnetic drill presses
Various machine tools
Properties

Carbide hole saws are for stainless steel plates. The plates are cut sharply.
Simultaneously, the saws have excellent durability.
Possible for simple drill work until 4㎜ in depth about thin stainless steel plates and metal plates
It is faster than a HSS hole saw. The plates are cut sharply.
By outstanding durability, the materials are cut cleanly.
Loading of an ejector spring for the protection of a carbide tip and smooth emission of chips
Cautions

In installing the chuck of an electric drill, match the eccentricity well.
Do not swing the saw from side to side or do not twist it in drilling work.
Do not do consecutive work in a state of applying force compulsorily.
Unavailable for not flat surfaces but bumpy parts and pipes (steel pipes, stainless steel pipes, etc.)
Effective when cutting oil is used on the working part
Please be careful that the hole saw does not drastically touch a processing matter after the penetration of the pilot drill (damage to the carbide tip due to a shock)
In consecutive work, maintain low speed. It should be used fitting to the rotation speed according to workpieces.
It should be used in low speed as the size of hole saws becomes bigger.
Use and materials

Possible for drill work about tiles, gypsum boards, asbestos plates, artificial marble (~4㎜), etc.
Power distribution boards, operating panels, control panels, stainless steel plates, FRP, cast iron slabs, aluminum plates, zinc iron plates, etc.
Reasonable RPM
| | |
| --- | --- |
| Product code | Diameter |
| 412-013 | Φ13 |
| 412-014 | Φ14 |
| 412-015 | Φ15 |
| 412-016 | Φ16 |
| 412-017 | Φ17 |
| 412-018 | Φ18 |
| 412-019 | Φ19 |
| 412-019.5 | Φ19.5 |
| 412-020 | Φ20 |
| 412-021 | Φ21 |
| 412-022 | Φ22 |
| 412-023 | Φ23 |
| 412-024 | Φ24 |
| 412-025 | Φ25 |
| 412-025.4 | Φ25.4 |
| 412-026 | Φ26 |
| 412-027 | Φ27 |
| 412-028 | Φ28 |
| 412-029 | Φ29 |
| 412-030 | Φ30 |
| 412-031 | Φ31 |
| 412-032 | Φ32 |
| 412-033 | Φ33 |
| 412-034 | Φ34 |
| 412-035 | Φ35 |
| 412-036 | Φ36 |
| 412-037 | Φ37 |
| 412-038 | Φ38 |
| 412-039 | Φ39 |
| 412-040 | Φ40 |
| | |
| --- | --- |
| Product code | Diameter |
| 412-041 | Φ41 |
| 412-042 | Φ42 |
| 412-043 | Φ43 |
| 412-044 | Φ44 |
| 412-045 | Φ45 |
| 412-046 | Φ46 |
| 412-047 | Φ47 |
| 412-048 | Φ48 |
| 412-049 | Φ49 |
| 412-050 | Φ50 |
| 412-051 | Φ51 |
| 412-052 | Φ52 |
| 412-053 | Φ53 |
| 412-054 | Φ54 |
| 412-055 | Φ55 |
| 412-056 | Φ56 |
| 412-057 | Φ57 |
| 412-058 | Φ58 |
| 412-059 | Φ59 |
| 412-060 | Φ60 |
| 412-061 | Φ61 |
| 412-062 | Φ62 |
| 412-063 | Φ63 |
| 412-064 | Φ64 |
| 412-065 | Φ65 |
| 412-066 | Φ66 |
| 412-067 | Φ67 |
| 412-068 | Φ68 |
| 412-069 | Φ69 |
| 412-070 | Φ70 |
| | |
| --- | --- |
| Product code | Diameter |
| 412-071 | Φ71 |
| 412-072 | Φ72 |
| 412-073 | Φ73 |
| 412-074 | Φ74 |
| 412-075 | Φ75 |
| 412-076 | Φ76 |
| 412-077 | Φ77 |
| 412-078 | Φ78 |
| 412-079 | Φ79 |
| 412-080 | Φ80 |
| 412-082 | Φ82 |
| 412-083 | Φ83 |
| 412-085 | Φ85 |
| 412-090 | Φ90 |
| 412-095 | Φ95 |
| 412-100 | Φ100 |
| 412-102 | Φ102 |
| 412-105 | Φ105 |
| 412-110 | Φ110 |
| 412-115 | Φ115 |
| 412-118 | Φ118 |
| 412-120 | Φ120 |
| 412-125 | Φ125 |
| 412-130 | Φ130 |
| 412-135 | Φ135 |
| 412-140 | Φ140 |
| 412-145 | Φ145 |
| 412-150 | Φ150 |
| 412-160 | Φ160 |
| 412-200 | Φ200 |
Possible for customization about other sizes